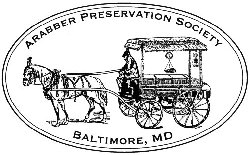 Arabber Preservation Society (A.P.S.) - Mission and History
---
Mission
The Arabber Preservation Society was created in March of 1994 to help the Retreat Street stable comply with city building codes. We are a non-profit organization dedicated to the support and preservation of Baltimore's horse-cart vendors [arabbers] and functional horse-cart vending [arabbing].
We recognize arabbing as an African-American folk tradition; an economically viable system and a method of apprenticeship completely unique to Baltimore. In recent years some of our last stables and arabbers have not been able to survive. Our society is committed to supporting the rights of arabbers and truth in media representation. We are dedicated to helping them continue their vital and autonomous economy without interfering with their self sufficiency and tradition.
---
History Outline of the Arabber Preservation Society (A.P.S.)
1994
March 1994-A.P.S. formed after Retreat St. stable condemned.
Repairs begun at Retreat stable.
Opposition voiced to City Council Bill #753 proposing a 1000% increase ($10 to $100) in horse-driving licenses
Bill #753 overruled
1995
Repairs completed at Retreat stable-Feb. '95.
Retreat stable reopened March '95.
Farrier (blacksmith) program initiated June '95.
Farrier apprenticeship program begun. A grant for the first blacksmith students to attend a farrier college procured.
Meetings with Baltimore City Animal Control on-going.
- Verified health and humane treatment of all animals used in this craft.
- Weekly inspections initiated.
Meetings with Housing and Community Development to discuss the role of Arabbers in Sandtown/Winchester
Meeting held with Mayor Kurt Schmoke Nov.'95
Meeting with Park and Recreation to discuss kids tours
New stable designed for Mullin Street by Neighborhood Design Center
Brochure designed by Neighborhood Design Center
Whatcoat St. stable ordered to close by the city October '95 (90 day removal notice) because roof was in need of repair
Stable wing at Carlton Street rebuilt to accommodate Whatcoat Street ponies and save jobs
History display and wagon restoration for City Life Museum
City Life Museum Museum Festival Hollering contest and display
City Life Museum stable tour and lecture
Whatcoat Street Arabbers reloacted to Carlton Street without missing one days work
1996
First annual benefit art auction - July
Historic carriage house purchased at 940 Lemmon Street for Arabber Museum
Veterinarian program initiated
Slide show completed
1997
Asphalt removed and grass planted in Bongo Square for Arabber paddock
Documentary film project begun
1998
Class Action Suit vs. Baltimore City and Health Department for harrassment and discrimination
"Arabbing in the 21st. Century" study published
"operation of Horse Drawn Commercial Transportation in the Urban Environment" published
1999
Post and Board fence built around Bongo Square
Reprinting of "Arabbers in Baltimore" by Roland Freeman researched
National Historic registration of Carlton Street Stable
"Baltimore: No Harbor for Entrepreneurs" published
2000
Retreat Street Stable condemed for Urban Renewal
Bongo Square opened with post and board fence for Arabber Ponies and community garden
2001
Work with Maryland Historical Society on Arabber exhibit "Whats It to You"
Class Action Suit settled, Harrassment abates
2002
Fremont Lumber Company purchased for new "Arabber Center"
Special committee meetings to ammend Health Department regulations as requested in suit
2004
"We Are Arabbers" documentary premiere
2005
Preservation Maryland grant for repairs at Retreat Street Stables
Arabber market opened by Pennsylvania Avenue Redevelopment Collaborative
2006
Presentation for Maryland's Preservation and Revitalization Conference
Restoration begun at Retreat Street Stables
One third acre horse park opened at Retreat Street Stables
Web site updated
2007
August 9, 2007
Baltimore City officials condemn the Reatreat Street Stables for building code violations and move the horses to Bowie and then to Pimlico race track
The arabbers continue to have access to their horses
The Mayor has promised to keep them in business
August 2007: New health regulations prohibit horses not used in arabbing or carrage trade from Baltimore City
November 2007: Horses given only one more month at Pimlico. City considers new temporary location
November 2007: Work began on new stable to be owned and operated by Baltimore City at Fulton Street and the B & O Railroad
2008
2008-28 horses from Retreat Street stables relocated from Pimlico racetrack to 2 tents at Fulton Street B&O site
April 2008-Retreat Stable demolished
April 2008-Mayor Sheila Dixon now announces "The City has spent enough on the arabbers and has no more funds available to build the new stable"
September 2008-Baltimore City changes its mind and agress to build a new stable at the Fulton Street site
2009
January 2009-Arabber Heritage Inc.,a new nonprofit is formed to manage the new stable
Baltimore is back from one team (wagon) last year to more than six working teams!
APS completely restores roof at Carlton St. Stable with help from Preservation Maryland and Baltimore City Heritage Area
Baltimore City removes horses from Fulton St.(temporary) Stable citing "unsafe conditions"
City removes temporary tent stable at Fulton St.
2010

Five Horse Drawn Wagons operated out of the Carlton Street Stable -Three wagons restored
2011
APS mediates a landlord tenant dispute at Carlton Street Stable
APS replaces a broken water supply line at Carlton Street Stable
Three horse drawn wagons operated this year
2012
APS restores rear door,west and north walls at Carlton Street Stable
Bruce St. Stable closed for building code violations
2013
New stalls built and old stalls enlarged at Arabber Center and Carlton St. Stable
Arabber Mural Project paints more than 8 walls at and around Arabber Center
8 horse drawn wagons now operating in Baltimore
---
Contact The Arabber Preservation Society, Dan Van Allen, President, 410-385-1277
118 S. Arlington Avenue
Baltimore, MD 21223
---
Layout and Design Copyright © 1997 by Thom LaCosta
All Rights Reserved
This document was last modified on: Thursday, 25-Jul-2013 18:23:07 EDT